Ex-Sumner Coach Charged with Child Rape, Molestation of Players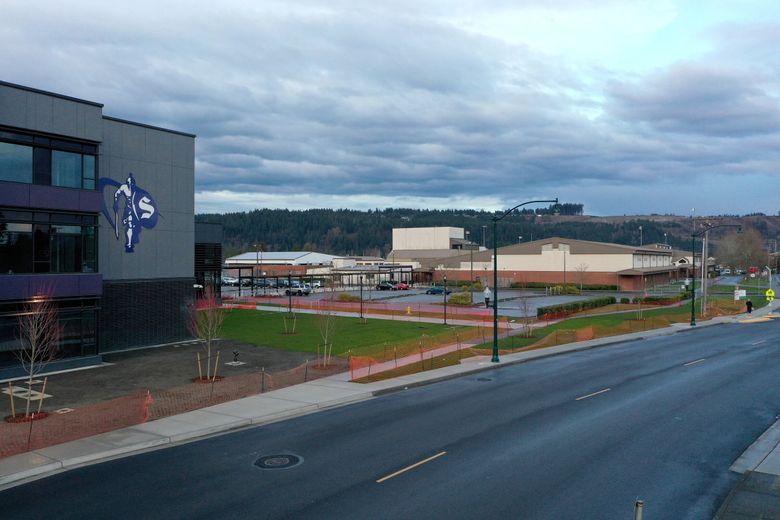 By Patrick Malone - The Seattle Times | Follow the link to access the online article
Ousted Sumner High School boys' basketball coach Jake Jackson was charged Thursday with 10 crimes related to sexual abuse of six former players, including child rape and molestation, according to documents filed in Pierce County Superior Court.
The charges filed by the Pierce County Prosecuting Attorney's Office came nearly eight months after the first players told police that Jackson was a persistent presence in their smartphones, asking for and sending nude photos. One boy whose family has been longtime friends with Jackson told police he was subjected to sexual contact with Jackson more than 25 times over the course of two years beginning in 2019 while he was between 14 and 16 years old, leading to the child rape charge.
Jackson's accusers told police he plied them with gifts and cash for odd jobs, and that they worried rejecting his advances would jeopardize their standing on the basketball team.
Jackson, 35, was served a summons Thursday to appear in court for arraignment on May 11 on one count of rape of a child in the third degree, two counts of third-degree child molestation, one count of sexual misconduct with a minor in the first degree, five counts of communication with a minor for immoral purposes — all felonies — and indecent exposure, a misdemeanor. Convictions on the felony charges each carry a possible prison sentence of up to five years and a fine of $10,000, and conviction on the misdemeanor holds the possibility of up to one year in jail and a $5,000 fine, according to state sentencing guidelines.
Jackson's lawyer, Brett Purtzer of Tacoma, said in an email that Jackson intends to plead not guilty to all counts but offered no further comment.
The investigation into the players' allegations against Jackson was complicated because his accusers said most of the communications involving nude images were over the mobile app SnapChat, which is programmed to make messages disappear after 10 seconds. And the settings Jackson and the players used made the photos and videos irretrievable for investigators. The investigation was also delayed by a backlog of processing DNA evidence at the Washington State Patrol's crime lab, leaving some of his accusers and their parents wondering if he would ever be charged. That evidence has now been processed.
Jackson's accusers and their families expressed relief in a statement released by their lawyer, Loren Cochran of Tacoma. "The criminal charges acknowledge that Jackson used his influence and power as a school authority figure to traumatize those children he was entrusted to protect," the emailed statement said.
The players and their families, whose identities remain anonymous in court filings, have expressed frustration that Jackson was allowed to resign from his job last October, more than five weeks after the investigation focusing on him was publicly reported and he'd been placed on leave. Jackson did not teach at the school and was primarily employed by his father-in-law's sports apparel firm. The accusers reiterated their frustration Friday over the prosecuting attorney's decision to allow Jackson to appear in court on a summons in lieu of arrest, calling it "preferential treatment" in the statement their attorney released.
"I feel anxious. I don't feel any better. Although it's a relief that he's been charged, I thought it would make me feel better," one of Jackson's accusers said in a phone interview.
The boy and his father both said they view Jackson as a flight risk because he has financial means and personal connections to two other states.
"I'm uber-concerned about what's going to play out before his court date," the boy's father said in a phone interview. "We live within a couple miles of this guy and see him frequently in the community. It's hard. He's picking up his kids at our schools, running into him at a gas station, seeing him on TV walking into a Mariners game. This makes you sick, because he's still out here living his best life."
Sumner police Chief Brad Moericke commended the members of his two-detective department who built the case against Jackson. "They followed every lead, which meant weeks of gathering mounds of physical and digital evidence," he said in a written statement. "I appreciate everyone's patience and perseverance."
The investigation into Jackson began a week before school started last fall when two students told police Jackson had pressured them to share nude photos with him. As police followed leads provided by the initial accusers, more came to them and shared stories of Jackson asking for and sharing nude photos, primarily over social media. One boy told police he had an unbroken streak of more than 300 days receiving SnapChat messages on his phone from Jackson. Another accuser told police he had a 360-day streak of SnapChat messages from Jackson, according to charging documents.
Police executed seven search warrants based on the boys' statements, collecting social media data for Jackson and his accusers and DNA samples, and seizing a swatch of carpet and a portion of the baseboard from Jackson's shoe closet.
SnapChat app protocols prevented police from finding useful evidence on that platform, according to charging documents. But a search warrant for communications on the mobile app Instagram revealed one instance when an accuser shared a photo of his penis with Jackson, and "Jackson responded that he loved it," according to the documents.
One player told police that Jackson masturbated in his presence in a walk-in shoe closet at Jackson's residence on the shores of Lake Tapps, and another told detectives that Jackson touched him inappropriately while masturbating in the same closet at least 15 times, charging documents said. In December, that accuser went back to police and told them that Jackson had compelled him into mutual oral sex at least 10 times in that closet, and once propositioned him for intercourse, according to the charging document filed Thursday by Pierce County Deputy Prosecuting Attorney Bryce Nelson. Prosecuting Attorney Mary Robnett accused Jackson of engaging in sexual intercourse with the boy.
DNA evidence collected from three places in Jackson's closet revealed Jackson's DNA conclusively, but did not conclusively identify the boy's DNA, although it provided "limited support" that the boy's DNA was present. The Washington State Patrol received the samples in January, according to a spokesperson, and only recently completed the analysis.
Sumner High hired Jackson in 2016 after he coached four seasons at Peninsula High School in Gig Harbor. Police have attempted to contact former Peninsula High players, but said they know of no accusations from Jackson's time there.
Two Sumner High School students and their families have filed lawsuits against Jackson and Sterling Athletics, the sports apparel firm that Jackson married into and where he gained access to shoes and a warehouse where he sometimes employed players for cash, according to their civil complaints. In court filings, lawyers for Sterling Athletics have denied the claims in the lawsuits. Contacted Friday, Bertha Fitzer, the lawyer representing Sterling Athletics, had no comment. The lawyer defending Jackson against the civil suits did not immediately respond to messages Friday seeking comment.
The lawsuits against Jackson are on hold pending the outcome of the criminal case against him after a judge ruled that requiring Jackson to provide a deposition could expose him to self-incrimination in the criminal case.
Four players have also filed notices of intent to sue the Sumner-Bonney Lake School District after The Seattle Times reported that the district was aware of complaints in 2018 and 2020 that Jackson frequently had inappropriate contact through text messages and social media on the students' mobile phones. The school district did not immediately respond to a message Friday seeking comment.
Cochran, the lawyer representing Jackson's accusers, said Thursday's charging decision moves the community of Sumner closer to understanding how such serious alleged actions could have gone on for so long and involved so many players without being detected. The father of one accuser said in a phone interview Friday that the charges against Jackson were welcome news but aren't a salve for his son's suffering.
"It wasn't a day of celebration for him," he said. "Every step along the way doesn't necessarily make it easier or make [my son] feel better. It doesn't. But at least it's progress."
Related to This